Hifz Books
Books can be purchased online or via phone: 07879 610 649. (All books charged at £1.00 for delivery)

Discount available for bulk buying, please contact us either by calling us 07879 610 649 or email info@madressahsyllabus.co.uk
BUY NOW – DESCRIPTION – SYLLABUS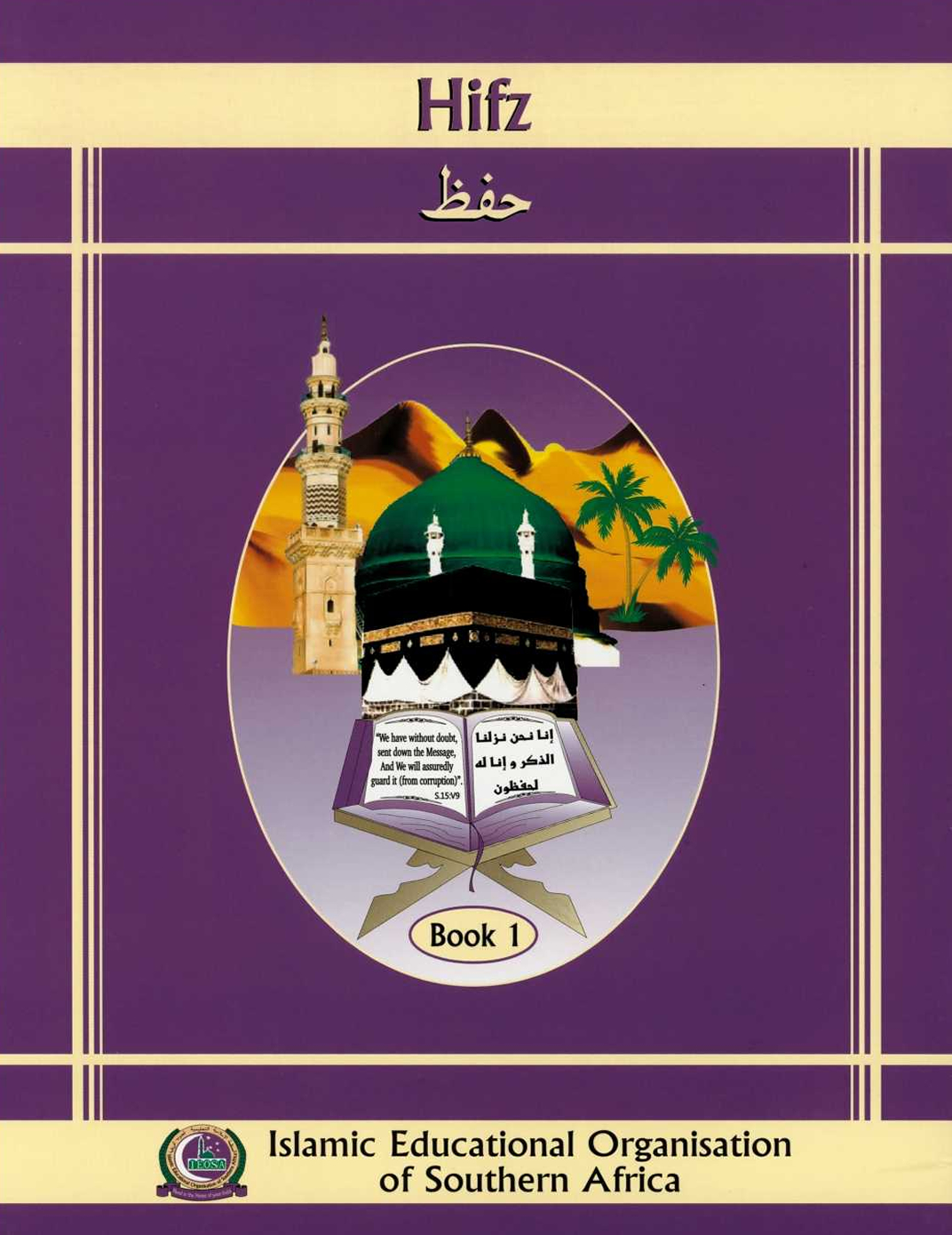 Hifz Book 1
Cover: Paperback
Author: Islamic Educational Organisation of Southern Africa
Publisher: IEOSA
Pages: 46
Price: £2.50 + £1.00 for delivery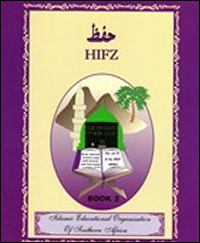 Hifz Book 2
Cover: Paperback
Author: Islamic Educational Organisation of Southern Africa
Publisher: IEOSA
Pages: 32
Price: £2.50 + £1.00 for delivery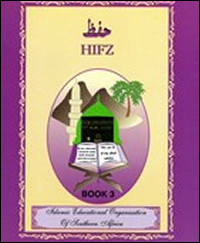 Hifz Book 3
Cover: Paperback
Author: Islamic Educational Organisation of Southern Africa
Publisher: IEOSA
Pages: 22
Price: £2.50 + £1.00 for delivery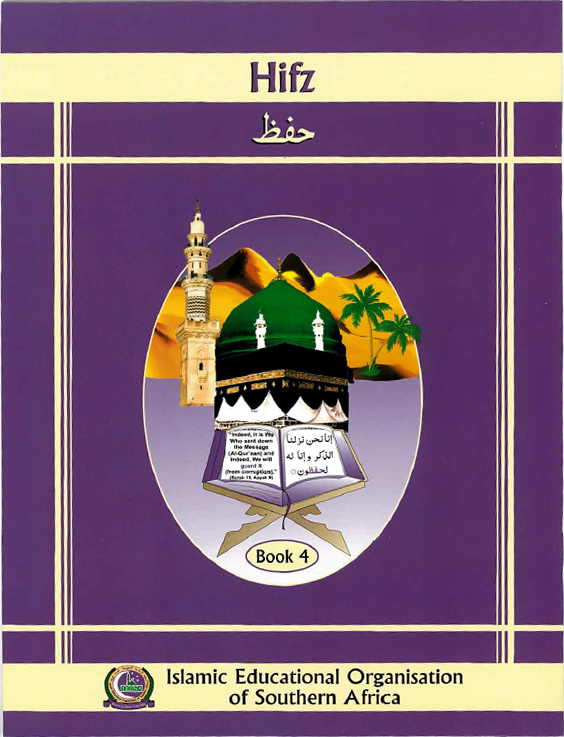 Hifz Book 4
Cover: Paperback
Author: Islamic Educational Organisation of Southern Africa
Publisher: IEOSA
Pages: 39
Price: £2.50 + £1.00 for delivery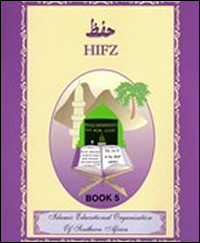 Hifz Book 5
Cover: Paperback
Author: Islamic Educational Organisation of Southern Africa
Publisher: IEOSA
Pages: 38
Price: £2.50 + £1.00 for delivery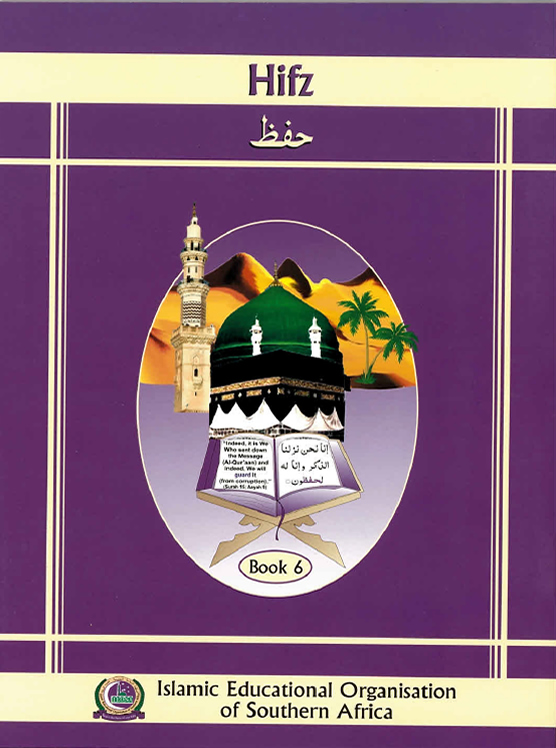 Hifz Book 6
Cover: Paperback
Author: Islamic Educational Organisation of Southern Africa
Publisher: IEOSA
Pages: 43
Price: £2.50 + £1.00 for delivery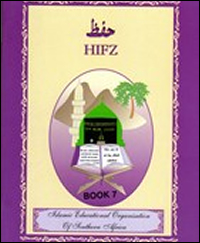 Hifz Book 7
Cover: Paperback
Author: Islamic Educational Organisation of Southern Africa
Publisher: IEOSA
Pages: 70
Price: £2.50 + £1.00 for delivery
DESCRIPTION
SURAHS AND DU`AAS
This series compiled for Grade 1 to Grade 7 provides selected Surahs from 30 Juz (chapter) of the Holy Qur'aan, as well as Du`aas for daily use found in the Sunnah. A noteworthy feature is the summarization at the end of each surah which will prove invaluable in giving the learner an insight into the Holy Qur'aan. Together with the Arabic text and translation of each supplication, the etiquettes and virtues as contained in the Sunnah is also provided.
N.B. Sneak preview of a lesson.
ISLAMIC ETIQUETTE : GREETING
Peace be upon you, and the Mercy of Allah and His Blessings
THE REPLY OF SALAAM IS:


And on you be peace, and the Mercy of Allah and His Blessings.
ETIQUETTES
a) "And when you are greeted (out of courtesy) respond to it with a greeting better than it, (at least) of equal courtesy." (Surah 4 : Verse 86)
b) When Muslims meet one another they should greet each other with the Islamic greetings.
c) That person who greets first without waiting for the other person to greet, is closer to Allah (SWT). (Bukhari, Abu Dawood Tirmizi).
d) One should greet loud enough for the one (for whom the greeting is intended) to hear it. (Ibid)
e) The young should always greet the elderly, those who are walking should greet those who are sitting and the fewer should greet the many. (Bukhari, Ibid)
f) To greet when entering or leaving home (whether one's own house or that of another). Allah (SWT) is a guarantee for that person who greets and then enters his house. i.e. Allah (SWT) suffices for him during his life, after his death and Jannah shall be his abode. (Al Adabul Mufrid).
SYLLABUS
BOOK ONE
KALIMAHS: Ta`awwuz and Tasmiyyah; Tayyibah; Shahadah; Tamjeed, Tawheed
ISLAMIC ETIQUETTES: When greeting a Muslim, In reply to "How are you" & On hearing good news, When wishing to do something. When congratulating someone. When thanking someone. When one has sinned. When bidding farewell. When one yawns. When one sneezes.
DU`AAS: Before eating, After eating, On entering and on leaving the toilet, For increasing knowledge, Before sleeping, On awakening.
SURAHS: Faatihah, Ikhlaas, Kauthar,
SALAAH: Niyyah for Wudu, Takbeer, Thana, Tasbee in Ruku, Tasmee, Tahmeed, Tasbee in Sajdah, Thashhahud.
________________________________________
BOOK TWO
REVISION OF GRADE 1 SYLLABUS
KALIMAHS:Imaan-e-Mujmal, Imaan-e-Mufassal
DU`AAS: On entering the Musjid, On leaving the Musjid, On becoming angry/dog barks, When a fire breaks out
SURAHS: Naas, Falaq, Nasr, `Asr.
SALAAH: Durood Ibraheem, Du`aa Masoorah, Du`aa after Salaam, Du`aa before making niyyah for Salaah. (Inni wajah tu), Niyyah for Fajr Salaah
________________________________________
BOOK THREE
REVISION OF GRADES 1 & 2 SYLLABUS
KALIMAHS: Kalimah Radd-e-Kufr
DU`AAS: After drinking water, After Wudu, For fasting, On breaking fast, When leaving home, On wearing clothes, When a loss occurs.
SALAAH: Niyyah for Zuhr, Asr, Salaah
SURAHS: Lahab, Kafiroon, Quraish, Maoon.
________________________________________
BOOK FOUR
REVISION OF GRADES 1, 2 & 3 SYLLABI
DU`AAS: Niyyah for Tayammum, Niyyah for Ghusl, Eating elsewhere, Boarding a vehicle
SURAHS:Al-Qariah, Feel, Humazah, Takathur
SALAAH: Du`aa-e-Qunoot, Azaan, Azaan of Fajr, Iqaamah, Du`aa after Azaan, Niyyah for Maghrib and Esha Salaah
________________________________________
BOOK FIVE
REVISION OF GRADES 1-4 SYLLABI
DU`AAS: When entering a Graveyard, When laying the deceased to rest in the Grave, When filling the grave with soil, After burial, When visiting the sick.
SURAHS: Adiyaat, Qadr, Theen, Zilzaal
SALAAH: Du`aa after Salaah, Sanaa of Janazah Salaah, Du`aa-e-Janaazah (adult)/(boy)/(girl), Niyyah for Jumu`ah Salaah, Niyyah for Janaazah Salaah, Niyyah for Eid Salaah
________________________________________
BOOK SIX
REVISION OF GRADES 1-5 SYLLABI
DU`AAS: For increasing knowledge and to remove stammering, Khatamal Qur'aan, Before entering home.
SURAHS: Bayyinah, Baqarah – Aayaat 1-5, Ayatul Kursi, Baqarah – Aayaat 284 -286, Taubah – Aayaat 128 -129, Ah-zaab – Aayaat 40 – 56, Niyyah for Taraweeh Salaah.
________________________________________
BOOK SEVEN
REVISION OF GRADES 1-6 SYLLABI
SURAHS: Duha, Inshirah, Alaq
DU`AAS: Before slaughtering the animal, For Isaale Sawaab, Recitation whilst slaughtering the animal, Du`aa after slaugtering the Qurbaani animal, Du`aa-e-Aqeeqah, Some model du`aas, Du`aa when sick.
For more information, please contact us either by calling us 07879 610 649 or email info@madressahsyllabus.co.uk